• In 1995 Alan Corry was asked to provide music for a concert in aid of Tor Bank Special School, Dundonald, to raise funds for the school and also raise public

awareness of the school's role in the community. Alan made contact with a number of friends from various brass bands in the greater Belfast area and in September 1995 a group of approximately thirty amateur musicians performed for the first time as "Festival Brass", with Alan as their conductor. The concert, originally intended to be a one off performance, was a resounding success and a number of requests were received for Festival Brass to perform again. The members, encouraged by the success of this venture, decided to continue for the benefit of those in need. The band has raised funds in excess of £200k for various charities.

• Festival Brass now perform on average six times a year, and have shared the stage with many well known artists such as West End stars Jeff Leyton (Les Misérables), Joanna Ampil (Les Misérables), Alex Sharpe (Miss Saigon), Carmen Cusack and our very own Peter Corry.
• Festival Brass have also performed at music festivals in Spain on a number of occasions, as well as on a Mediterranean Sea cruise.
Future concerts
Some of the concerts for 2019 are detailed below and on our events page. We look forward to meeting our friends who regularly attend our concerts, as well as some new friends.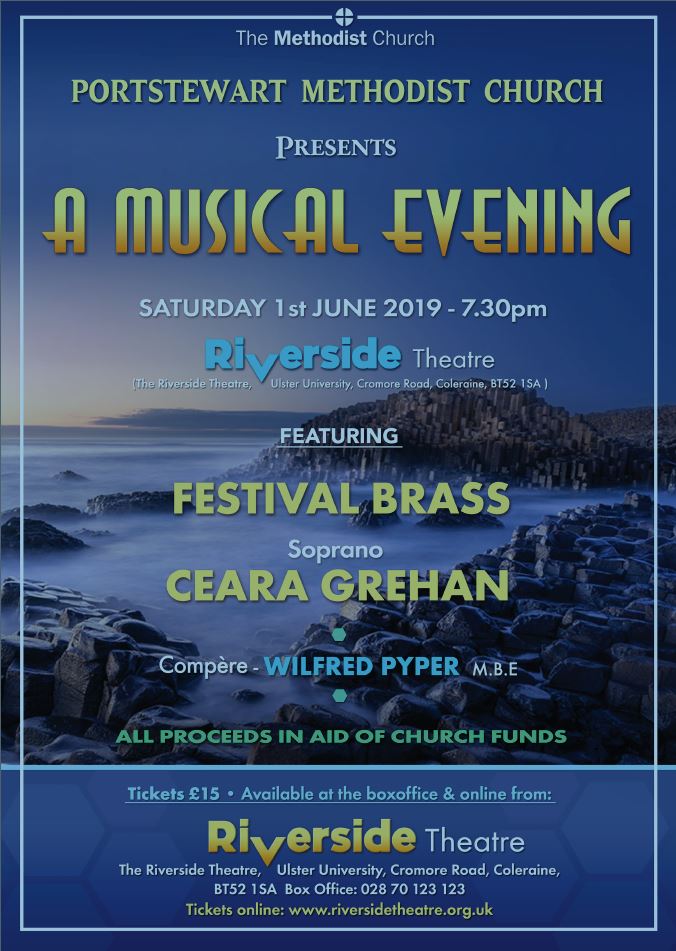 The next Festival Brass is a concert hosted by Portstewart Methodist Church in aid of church funds. This is the first time Festival Brass have played in the Riverside Theatre and we will be joined by the superb Ceara Grehan and the inimitable Wilfred Pyper MBE. The concert poster can be viewed in full size or opened for downloading by clicking here.
Saturday 1st June 2019 at 7.30pm Portstewart Methodist Church present a Musical Evening in the Riverside Theatre, Coleraine - Festival Brass with Ceara Grehan and compere Wilfred Pyper MBE. Tickets are £15 from the theatre box office or online by clicking here.
Festival Brass on Facebook
Festival Brass is also embracing the latest social networking; to visit our Facebook page please click here.
Festival Brass performing in Holywood parish church on Saturday 27th October 2018.